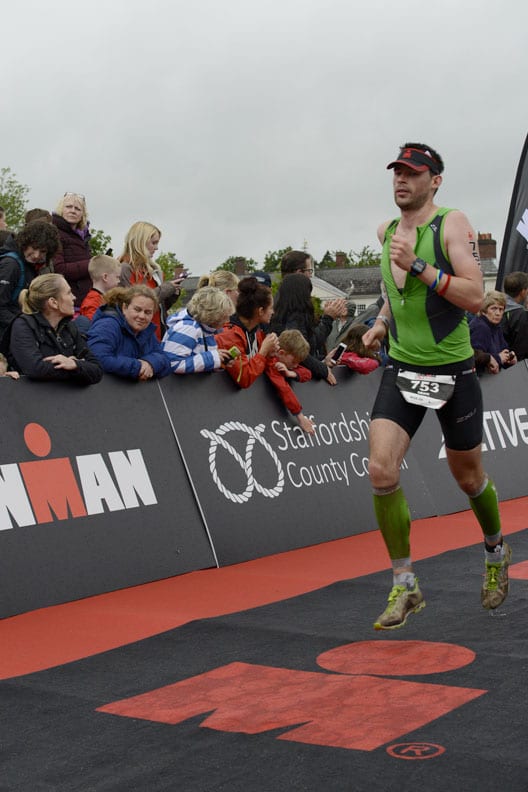 Preparation
I had entered back last Autumn, but due to family commitments it looked until last Friday I wasn't going to race, but having made that decision only 8 weeks ago I had missed the cutoff for a refund. So when Inga (my wife) decided she would be in Germany this weekend it seemed the obviously thing to do. I wasn't too concerned as I have had a great Winter and Spring training, although more than a weeks notice to take on a 70.3 is NOT something I would recommend.
In my experience Ironman branded races are always very slick and this one was no exception, although last year being the first one on this site had caused a few complaints, these must have been smoothed out as it all worked very well. The split transition meant the Saturday was a long one, especially driving up there, and then driving the bike route, something I find very useful if there isn't time to train on it. I was tired when I reached my hotel, I didn't even have the energy too shout at the TV when Russia scored! Big bowl of pasta and some sweet potato fries was the safest order from the room service menu.
I always try and arrive at the start as early as possible on race morning, check the bike, sort out computers and watch all that stuff and, then of course spend loads of time waiting in line for the porta-loo, never enough of these, although I did have my own toilet paper this time.
Swim
Rolling start on a U shaped course, the rolling starts are a great idea, it made it really easy. The water was clean and relatively clear and there was no wind so it couldn't have been better. I wanted to be calm in the first 400m and find my rhythm, and for once that worked, it was only the second time this year I had been in open water so was pleasantly surpassed when I looked at my watch after 800m and saw I was below 14mins, obviously I faded or swam to far as I exited in 36.57 and I swam 2050, according to my watch!!! Very comfortable.
T1
It was long run to the tent, took my time getting changed, would rather be comfortable then rushed on a 70.3. No drama.
Bike
In long distance Tri's I tend not to attempt the flying start, I run to my bike in my bike shoes, the amount of people who can't do the flying start properly that loose out on time, plus socks were needed at this time of the day! Mounted and headed out on the dam to exit the lake, we were instructed that there were speed bumps and no overtaking as the road was narrow. On the first speed bump I lost my only water bottle, not ideal but only 20km to the first food station. Once across the dam the first 5km was nice wide roads before we entered 10km on narrow undulating country lanes. Not something I am unused to, from TTs, but given the rain overnight I was fearful of a puncture! There were a few I saw. Anyway put the power down and passed plenty of riders from all the different AG. Knowing the course I knew after the 15km point the course opened on to A roads with a nice smooth surface and relatively flat, time to go, slightly undulating in parts, 2 longer climbs at the end but nothing too bad, I got my replacement drink, used 4 gels on the ride and apart from the heavy down pour after 90mins or so I was really pleased to exit in 2.39 averaged 34.8kmh.
T2
Again not enough porta-loos in T2! Very glad for the change of socks I had thrown in the bag, not something I would normally do but given the forecast I was very glad I did.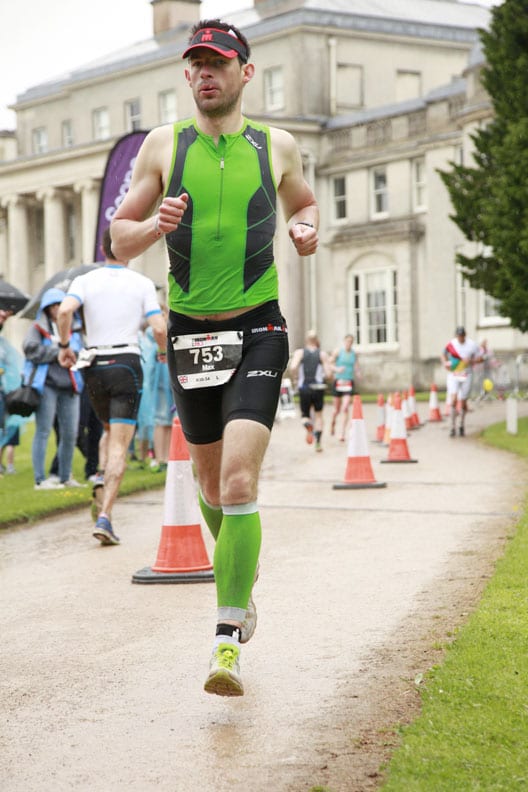 Run
The run was 3 laps around the Shugbourg Hall Estate (which is very pretty by the way) and the local village – some on road, some footpaths, and some off road mud paths, dangerously muddy in the rain we had. Given my lack of preparation I knew it might be a case of doing what I could and holding on during the run. I went off very quickly and after 2 km in 8.30 I knew this wasn't going to last, keep pushing and despite the rather large hill which we had to run up 3 times, and the very muddy track for at least a quarter of each lap I completed the run in 1.39. 2 gels, both half swallowed and half swilled and spat out (sorry for the detail), water/electrolyte drink when needed.
Overall
Satisfied…. little odd doing it all on my own and having no one there with me but did allow to be relaxed but focused, the lack of preparation did mean I was very relaxed and had no real expectation other than to ride hard. Finish time was 5.08, 32 in AG, normally would hope for better and with a bit more focused training and better weather I would have hoped for under 5 if not 4.50!